27.01.2021
HARTING web based - seminars - register now!
Experience the future today
In order to continue to meet all customer and market requirements in the future, HARTING attaches great importance to future technologies. We want to support our customers with all challenges. Discover all the trends with the HARTING web based seminars and take the first step into your future.
HARTING web based seminars on numerous topics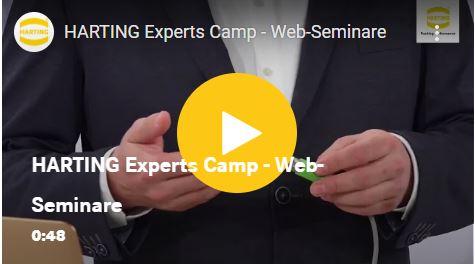 HARTING Expert Camp - Find out how you can use technology to shape the future with HARTING's web based seminars.
With a targeted use of data and associated processes, high efficiency gains can be achieved in industry during design-in. Optimize your processes by getting product data quickly and easily.
The Han® 1A connector series increases your flexibility through numerous application options, reduced installation time and space savings.
Machine and system builders who follow a consistent modular approach are often particularly successful. Interfaces play a central role in these concepts.